Prayer Quilt Ministry
3rd Thursday of each Month
10:00 a.m. – 2:00 p.m. & 6:00 p.m. – 9:00 p.m.
New World's Prayer Quilt Ministry strives to bring comfort to persons facing life's challenges—weddings, births, illness, death—through the gift of a tied quilt.
Members of the congregation "nominate" persons for quilts, and the Prayer Quilt Committee makes the quilts, personalizing each with a label showing the recipient's name. A quilt is approximately 40"x50"; the quilt layers are held together with lengths of yarn. As the congregation ties these lengths of yarn into knots on Sunday morning, they say a prayer for the quilt recipient.
Our prayer quilts are about the fabric of prayer and are symbolic of the prayer outreach of New World United Methodist Church. The quilts are meant to be positive, hopeful, and comforting.
The Prayer Quilt Ministry meets the third Monday of each month in the parlor. Meeting times are 10:00 a.m. – 2:00 p.m. and 6:00 p.m. – 9:00 p.m.
For more information contact Denise Hickman at 972-475-4843, or Evelyn Thompson at 972-475-3698.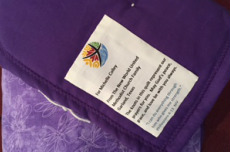 HUGS (Sit'n Sew) Ministry.
1st, 3rd, 4th Monday of each Month
9:30 a.m. – 12:00 p.m

---
HUGS Ministry began in 2012 with the purpose of providing hats, prayer shawls and blankets for use in our community. These items are handcrafted, some on looms, crocheted or knitted. Our goal at that time was to provide every child in the New World Dayschool a warm hat for the winter.
In the past 10 years the hats have been distributed to our neighborhood schools in Garland and Mesquite, Good Samaritan, an Indian school in South Dakota, Dallas American Heart Association, and the Oklahoma Dept of Health as part of a program to educate parents about Shaken Baby syndrome.In addition to our own New World Dayschool, hats have gone to Hamilton Park UMC Dayschool, and Kids U an afterschool program for low-income kids in Dallas. Our members have visited an Assisted Living Centers and taught the residents (Men and Women) how to make their own hats. In the last 10 years, this group of 5-6 women have made and distributed well over 4,500.
Hugs Ministry meets the 1st, 3rd, and 4th Monday of each month in the parlor. Meeting are from 9:30 a.m. – 12:00 p.m.
For more information contact:
Cindy Galbraith at 972-279-6145,