Prayer Quilt Ministry
3rd Thursday of each Month
10:00 a.m. – 2:00 p.m. & 6:00 p.m. – 9:00 p.m.
New World's Prayer Quilt Ministry strives to bring comfort to persons facing life's challenges—weddings, births, illness, death—through the gift of a tied quilt.
Members of the congregation "nominate" persons for quilts, and the Prayer Quilt Committee makes the quilts, personalizing each with a label showing the recipient's name. A quilt is approximately 40"x50"; the quilt layers are held together with lengths of yarn. As the congregation ties these lengths of yarn into knots on Sunday morning, they say a prayer for the quilt recipient.
Our prayer quilts are about the fabric of prayer and are symbolic of the prayer outreach of New World United Methodist Church. The quilts are meant to be positive, hopeful, and comforting.
The Prayer Quilt Ministry meets the third Monday of each month in the parlor. Meeting times are 10:00 a.m. – 2:00 p.m. and 6:00 p.m. – 9:00 p.m.
For more information contact Denise Hickman at 972-475-4843, or Evelyn Thompson at 972-475-3698.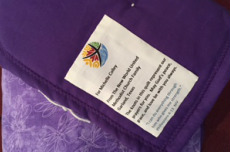 The Festival
Annual Event
---
The Festival is an annual event at New World.
The Festival 2017- making a difference one life at a time.
Over 600 people attended The Festival 2017 and we are thankful for every one one of you. We had some wonderful vendors at this year's Marketplace and everyone enjoyed the Magic Show by Sam the Magic Man. Each one helped to make this year's event special.
A special thanks to the 5-Star Senior Living Center for loaning us their 8-passenger golf cart for transportation from parking to the Festival grounds.
To everyone who shopped, bought a pumpkin, ran, walked, played, rode ponies, bid, cheered and ate, we hope to see you all in 2018.
Money raised at this event supports our Youth and Children, Missions, and Day School Ministries.