Prayer Quilt Ministry
3rd Thursday of each Month
10:00 a.m. – 2:00 p.m. & 6:00 p.m. – 9:00 p.m.
New World's Prayer Quilt Ministry strives to bring comfort to persons facing life's challenges—weddings, births, illness, death—through the gift of a tied quilt.
Members of the congregation "nominate" persons for quilts, and the Prayer Quilt Committee makes the quilts, personalizing each with a label showing the recipient's name. A quilt is approximately 40"x50"; the quilt layers are held together with lengths of yarn. As the congregation ties these lengths of yarn into knots on Sunday morning, they say a prayer for the quilt recipient.
Our prayer quilts are about the fabric of prayer and are symbolic of the prayer outreach of New World United Methodist Church. The quilts are meant to be positive, hopeful, and comforting.
The Prayer Quilt Ministry meets the third Monday of each month in the parlor. Meeting times are 10:00 a.m. – 2:00 p.m. and 6:00 p.m. – 9:00 p.m.
For more information contact Denise Hickman at 972-475-4843, or Evelyn Thompson at 972-475-3698.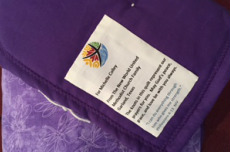 The Festival
Annual Event
---
The Festival is an annual event at New World.
The Festival 2017- making a difference one life at a time
Oct. 21, 2017 9am-4pm
Fun Run and Phantom 5K @ 8:00am
Wear your costume, bring your dog, or just come as you are for the Phantom 5K and Fun Run. Breakfast and a T-shirt are included. Come for the run and stay for the rest of the day. Go to this website to register for the run or donate as a sponsor.
https://runsignup.com/Race/TX/Garland/PhantomRun
Beginning at 10am
Kid's Carnival, Bounce Houses, train rides, petting zoo, Pumpkin Patch, food, vendors, live and silent auctions.